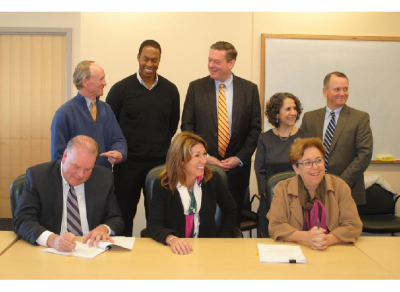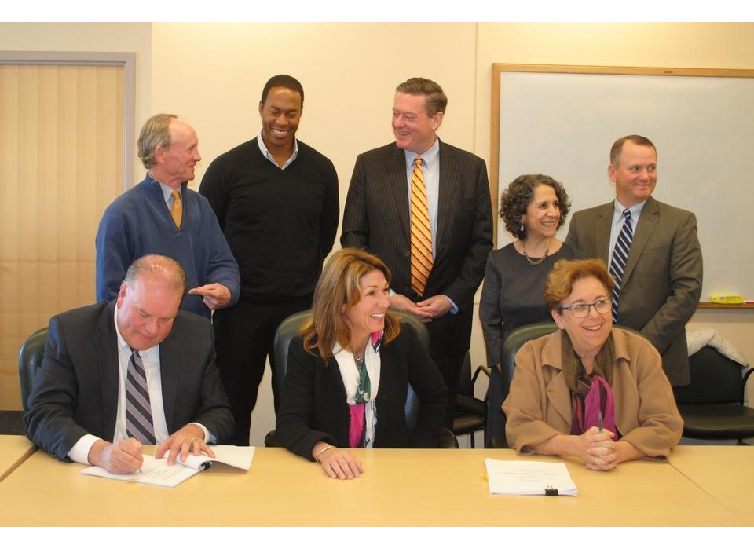 Worcester Telegram & Gazette – November 2017
A plan to redevelop the former Worcester State Hospital campus into a hub of 500 new jobs in life sciences and biomanufacturing is now in the Worcester Business Development Corporation's hands, after the state and developer signed a land disposition agreement Thursday.
Lt. Gov. Karyn Polito highlighted progress on the redevelopment with state and local officials and project stakeholders Thursday.
During a meeting of the Worcester Biomanufacturing Initiative, which Ms. Polito chairs, the state executive office for Administration and Finance's Division of Capital Asset Management formally entered into the agreement with the developer to redevelop the 44-acre site as part of the state's ongoing "Open for Business" initiative. The initiative turns prime unused state land into productive uses.
In January, Gov. Charles Baker signed legislation authorizing the land transfer. The WBDC was announced as the site partner by Ms. Polito in September 2016. WBDC plans to develop about 350,000 square feet on seven sites.
When completed, the proposed facility will have capacity for up to 500 jobs and is expected to attract research biotech companies seeking to move from research to commercial manufacturing, officials said.
The plan would knock down the massive former state hospital building and many other buildings that exist on the site, and replace them with a biomanufacturing park with facilities that would produce drugs, medical devices and more for cutting-edge medical treatments.
In an interview, Ms. Polito called it "a milestone moment because it took a team effort between Worcester, UMass, the WBDC and the state to come together to work through a number of real estate and transactional issues to get to a point where the state could convey the land." The land transfer was ushered through the state Legislature by Sen. Harriette Chandler, D-Worcester, and Rep. James O'Day, D-West Boylston, prior to Mr. Baker's signature.
The lieutenant governor said WBDC is recognized in Central Massachusetts and beyond for its real estate expertise and long history of successes, including Gateway Park at Worcester Polytechnic Institute and other development projects in the city.
While Massachusetts is known as the most innovative state, Ms. Polito said, it is ranked about 10th in the country for biomanufacturing, indicating tremendous opportunity to create more jobs.
"We feel very bullish on Central Massachusetts and particular Worcester being a community where bio-manufacturing jobs can grow," she said.
She added, "We are working closely with the Mass. Life Science Center to promote the parcel of land to attract biomanufacturers to the site, and that is part of the next stage of marketing and making known this parcel of land for that purpose. We feel strong and confident that we can grow a biomanufacturering sector at this site."
The lieutenant governor also noted that Mustang Bio, a New York biopharmaceutical company, is building a manufacturing facility at the UMass Medical Science Park, which demonstrates the interest in Worcester for biomanufacturing.
"And with this campus designated on these 44 acres, it will allow us to see more of that kind of business come into Worcester … and create the kind of jobs in the life sciences and biomanufacting that will be really meaningful to our future," she said.
City Manager Edward M. Augustus Jr. said, "The city of Worcester and our partners take pride in our ability to work together to ensure that we take advantage of any opportunity that comes our way. Biomanufacturing is an industry that will drive our economy forward and this agreement between DCAMM, the WBDC and the many other stakeholders involved highlights our commitment to seizing an opportunity that will have a long-lasting positive impact on our city."
Mrs. Chandler said, "Worcester is a city full of colleges and industrious people. The construction of this biomanufacturing facility is a boon to scientific and economic growth across the region."