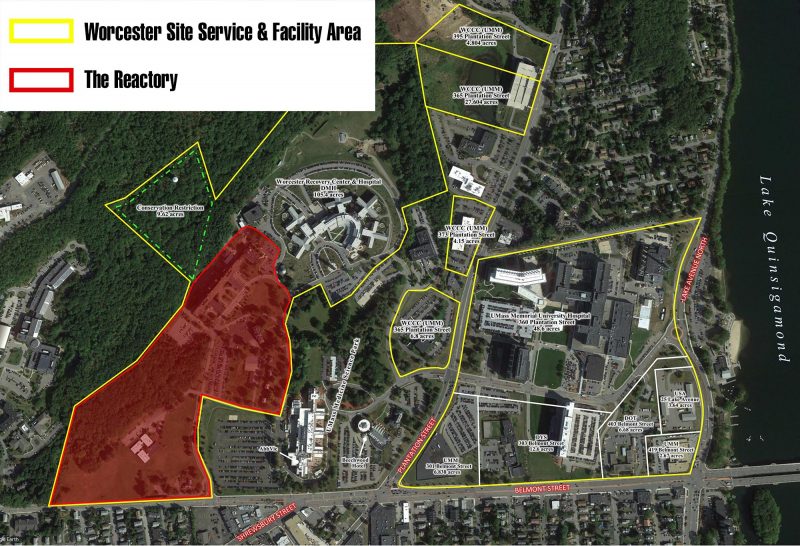 Worcester Business Journal – December 2019
Nine development-ready sites at the planned Worcester biomedical office park called The Reactory have begun, as the property's owner has secured new financing for ongoing preparation efforts.
Country Bank of Ware said Wednesday it has provided $2.7 million in financing for ongoing engineering and site preparation efforts, along with refinancing the original acquisition costs of the site. The funds are going to the Worcester Business Development Corp., which owns the site.
News of the financing comes a few weeks after the Worcester real estate firm Kelleher & Sadowsky began marketing the site for sale or lease. Kelleher & Sadowsky is advertising eight developable sites, plus the 24,000-square-foot Hale Building, a last remnant of the old Worcester State Hospital. The other sites total up to 506,000 square feet, about 62,000 square feet larger than Abbvie's facility.
Sites in The Reactory are becoming available as demolition nears completion at the former Worcester State Hospital's towering brick Bryan Building, a $15-million state-funded project.
The planned anchor tenant — WuXi Biologics — is not mentioned in marketing materials. WuXi first said in June 2018 it planned to open a $60-million, 150-worker Worcester facility to be the Chinese biomanufacturing firm's first in the United States.
WBDC said in its announcement negotiations are continuing with WuXi. WuXi and Kelleher & Sadowsky didn't return messages seeking more detail. The Worcester Business Development Corp. declined to comment.
WuXi has been heralded by public officials as an affirmation of the city's ability to draw biotech companies, particularly at a site next to the sprawling Abbvie office and manufacturing facility and the UMass Medicine Science Park, giving companies a key location across the street from UMass Medical School.
WuXi has been in line for up to $21 million from the city and state in grants, rent abatements and loans. The company's plans have called for a biologics clinical and commercial manufacturing facility able to handle both clinical and small volume commercial production, along with an early-stage bioprocess development lab.
The 46-acre site was bought in phases in 2017 and 2018 by the Worcester Business Development Corp., a public-private business development agency. The WBDC announced The Reactory's name in June after working with Boston marketing firm Proverb to help with developing a brand and identity for the campus.
WuXi is the second major tenant to considered to anchor the office park. LakePharma, a California firm has a smaller presence at Worcester Polytechnic Institute's Gateway Park, was talked about as a possible tenant at The Reactory, but the company instead opened a facility in Hopkinton without having to wait for a parcel there to become shovel-ready.