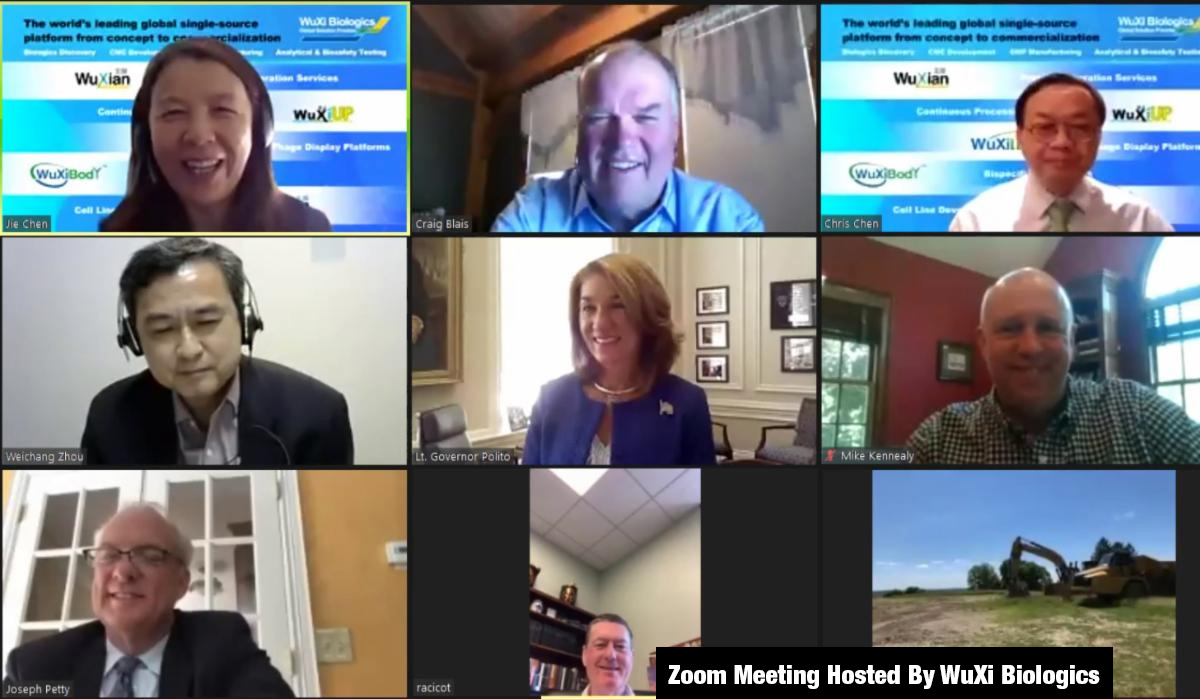 June 16, 2020 – A virtual ceremony on Zoom was held today to celebrate both the completion of the recent land agreement between WuXi Biologics (WuXi Bio) and the Worcester Business Development Corporation (WBDC), and the start of construction of the WuXi Bio MFG11 biopharmaceutical manufacturing facility at The Reactory in Worcester, Mass. The special ceremony was hosted by WuXi Bio as a way to thank the Commonwealth of Massachusetts and the City of Worcester for their strong support, and to express its appreciation for the contributions of the many local stakeholders who helped facilitate the transaction.
Opening remarks were provided by Chris Chen, Chief Executive Officer of WuXi Bio and Craig Blais, President and Chief Executive Officer of the WBDC.
Lt. Governor Karyn Polito, and Secretary of Economic Development, Mike Kennealy, thanked WuXi Bio for becoming the anchor tenant at The Reactory, and saluted all involved in working through the many twists and turns needed to consummate the land deal, including city, state and industry leaders.
Mayor Joseph Petty and City Manager Edward Augustus thanked the WuXi Bio team for choosing Worcester as the location of its first-ever manufacturing site in the United States. Also, special thanks were given for WuXi Bio's recent donation of surgical masks to local healthcare providers to support frontline medical personnel fighting the coronavirus.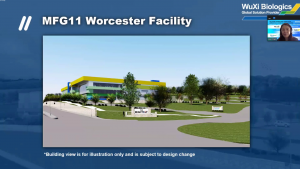 Then, Vice President and MFG11 Facility Site Head, Jie Chen, provided a comprehensive overview of the MFG11 manufacturing facility that included a slide presentation with music accompaniment by Worcester area guitarist Duke Levine.
A live video feed from the land site at The Reactory was shown to herald the beginning of construction of the approximately 107,000-square-foot, two-story facility that will be operational in 2022 and create 150 new jobs. WuXi Bio's MFG11 Director of Manufacturing, Shawn Fitzpatrick and MFG11 Director of Engineering Bill Riordan were shown at work with construction activity behind them.
WuXi Bio Chief Technology Officer, Weichang Zhou ended the ceremony with closing remarks thanking state and local authorities for their strong support and cooperation. Working together, great things can occur. Mr. Zhou illustrated such a point by highlighting the collaboration occurring presently between WuXi Bio's more than 500 scientists and its global partners in the race to discover and develop antibodies and therapeutics for Covid-19.